Body contouring treatments had always been in great demand. Despite a healthy lifestyle and exercise, nothing seems to be able to get rid of the unwanted curves and bulges that have settled in, and even if there is a reduction with intense exercise and diet, it returns when there is a slight compromise. And in many clients with hormonal imbalance and a stressful lifestyle, this unhealthy fat ( eg. belly fat ) is extremely resistant and doesnt respond to life style modifications. more over ,this fat is a metabolically active , releasing many inflammatory mediators, which can worsen the metabolic parameters. studies have shown that removal of this unhealthy fat when combined with diet and exercise provides greater improvement in metabolic parameters like hyerlipidemia and high blood sugar levels, when compared with diet and exercise alone.
Traditionally fat removal had been done by surgical techniques, but not preferred by many unless there is too much fat, due to the risk of side effects, downtime and costs involved.
Even though many non surgical options are available for fat reduction, results were less satisfactory, can be effective only in those with lesser pockets of fat with normal BMI, may require multiple sessions and post treatment pain and bruising was more common.
360 degree new generation body contouring with CRISTAL PRO
Taking into consideration of all these factors, we are introducing for the first time in South India, the BEST and the FASTEST non surgical fat freezing technology in the world from DELEO FRANCE - THE CRISTAL PRO
What is Fat freezing ( Cryolipolysis )
The principle of cryolipolysis is to eliminate fat cells (adipocytes ) by causing their cell death (apoptosis) through the application of intense cold combined with negative pressure by suction. The intense cold will provoke CRISTALlization of adipocyes , the dead cells are progressively evacuated via the lymphatic system . Medical cryolipolysis permanently reduces the no of fat cells in the treated area by 20-30 percent. The fat cells are particularly susceptible to the effects of cold, unlike other type of cells . While the fat cells freeze, the skin and the other structures are spared from injury.
Why Cryolipolysis
Cryolipolysis was introduced in the year 2009. It is the best evidence based modality with many clinical studies and research papers to support its efficacy and safety, When compared with other non surgical fat reduction systems, it is by far the best modality providing long term fat reduction with mimimun no of sessions. it has no down time ,safe, called the 'LUNCH TIME LIPO", as a session can be completed within 30 - 60 min depending on the area treated. It also cuts down the cost of traditional liposuction.
Advantages of CRISTAL PRO
Fastest and most efficient fat freezing system in the world ,with more than 10,000,00 successful treatments
Provides 360 degree body contouring for face and body, due the new patented Cavity cooling diffusion system , which provides homogenous and stable cooling when compared to the traditional systems which used cooling plates ,which can result in more cooling on sides. This results in safer and more efficient treatments and improvement of many treatment results.Even higher BMI (30-35) clients can be treated.
Provides 8 diff applicators to treat all the areas of face and body, to offer 360 degree coverage of the silhouette for optimized results and maximized patient satisfaction. Designed with SOFT COMFORT technology , the applicators have a morphological shape that perfectly suits to the fat skn fold, for a more comfortable treatment.
Four applicators can be connected simultaneously allowing to treat multiple areas together, reducing the treatment time , when compared to the traditional machines where only one or two applicators can be connected.
Vaccum can be adjusted depending on the treatment area- lesser chance of bruise
Unique advantage of added ultrasound imaging- can measure the thickness of fat before and after treatment. Ultrasound analysis allows a better definition of treatment parameters for each of the treated area, encouraging a maximization of results.
INDICATIONS
clients who wish to reduce localised fat bulge that has persisted despite exercise and diet.
Medical indication - Treatment of pseudogynaecomastia defined as localized subareolar fat in men.
Aesthetic indication- Reduction of localized fat deposits in different areas of the body like abdomen, thighs, arm, flanks, chin, back etc in men and women
Treatment protocol
1 to 3 sessions on the same area may be required depending on the size of the fat fold and the patients response to treatment. Possibility of making a treatment plan by combining different areas. 2-3 months between each session on the same area if required.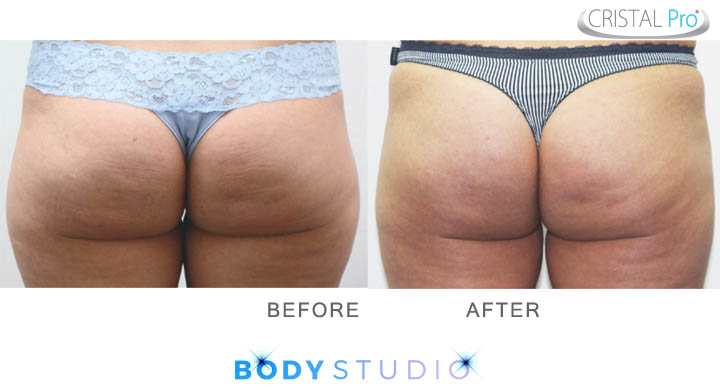 Post treatment
No restriction of activity or rest required post treatment . can feel some soreness post treatment. Massaging the treated area advised to improve the lymphatic drainage of fat. Exercising for a min of 25 min per day and a proper diet can enhance the results. The results of this treatment is long lasting . Although the treated fat cells are permanently removed, maintaining a proper lifestyle will avoid fat from accumulating in the untreated fat cells. you can think of this treatment as not only body contouring to enhance your looks, but also a healthy way of living too. We provide the post treatment support with a dedicated nutritionist and regular follow ups, which will help you to maintain your results for long term.
Body HIFU at Lisa Skin Clinic
Register for treatment
---